Sustainable Living @ South East
Sustainable Living @ South East
==
Background
Sustainable Living @ South East aims to empower our community stakeholders with the knowledge of sustainable practices, inculcating a pro-environmental mindset and enabling behavioural change. The Sustainable Living @ South East Programme consists of two components, Capability Building Workshop and Sustainable Living Grant.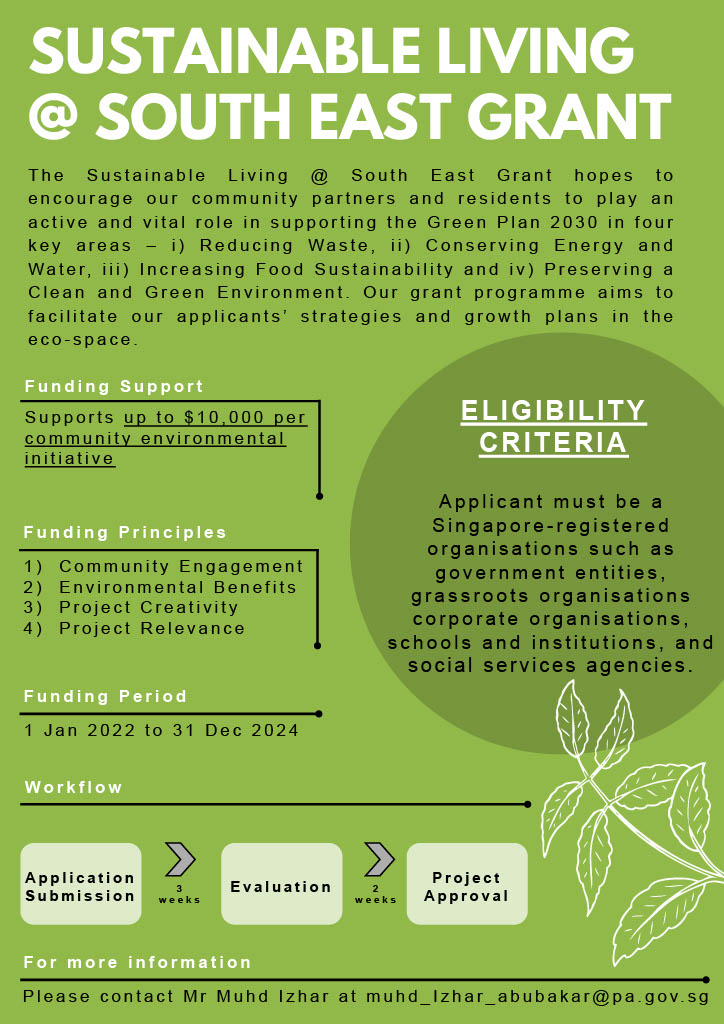 Capability Building Workshop (2-3hrs)
The workshop aims to: Increase participants awareness of environmental challenges and issues; Impart knowledge in sustainability for participants to make informed decisions achieving lasting environmental change; and Build participant's' capabilities to organise effective environmental projects.
Sustainability Living Grant
To empower our community partners to take ownership of the environment and to facilitate growth plans in the Eco-space, the Sustainable Living Grant will support green initiatives with up to $10,000 per environmental project. The grant can support both new initiatives as well as, ongoing initiatives that are looking to scale up current efforts, focusing on the following:
Reducing Waste,
Conserving Energy and Water,
Increasing Food Sustainability and
Preserving a Clean and Green Environment.
For more information, contact Mr Muhd Izhar at muhd_Izhar_abubakar@pa.gov.sg